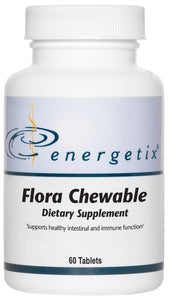 Flora Chewable contains the spore form probiotic bacillus coagulans and prebiotic fructooligosaccharides (FOS) to help support normal immune and digestive response. Bacillus coagulans—a lactic acid-producing bacterial endospore nourished by the FOS—aids in maintaining normal intestinal microflora balance.
*If pregnant or breast-feeding, consult a healthcare professional before use
**These statements have not been evaluated by the Food and Drug Administration. This product is not intended to diagnose, treat, cure, or prevent any disease. 
Ingredients (per tablet):
Vitamin C (from Ascorbyl palmitate), Fructooligosaccharides (Chicory Root Inulin), Bacillus coagulans.

Other Ingredients:
Fructose, Hydroxypropyl Cellulose, Natural Mixed Berry Flavor, Natural Raspberry Flavor, Silica.