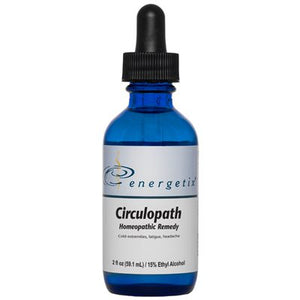 Circulopath is a homeopathic combination formula for symptoms related to the circulatory system. The organs and vessels that comprise the circulatory system are responsible for maintaining the normal flow of blood, hormones, and nutrients amongst the cells.
For symptoms of shortness of breath; heart palpitations; irregular pulse; poor memory; pulsating headache; blurry vision; fatigue; fluttering in chest; ringing in ears; weakness; edema of extremities; cold extremities; bluish cast to skin; tingling in extremities; red, blotchy complexion; purple spots on legs; distended veins.
Active Ingredients:
59.1 mL contains 4.34% of Adenosinum cyclophosphoricum 10X; Arnica montana 30X; Aurum muriaticum 12X; Baryta muriatica 12X; Borago officinalis 6X; Cholesterinum 12X; Citrus limonum 4X; Coenzyme A 10X; Conium maculatum 12X; Digitalis purpurea 6X; Ginkgo biloba 4X; Hypothalamus 12X; Kali iodatum 12X; Laurocerasus 10X, 12X, 6C; Magnesia muriatica 8X; Nadidum 9X, 12X, 6C; Phaseolus 5X; Phosphorus 30X; Thyroidinum 12X.

Inactive Ingredients:
Ethyl Alcohol, Glycerin, Purified Water.

†Claims based on traditional homeopathic practice, not accepted medical evidence. Not FDA evaluated.