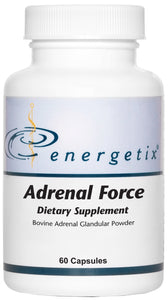 Adrenal Force is a nutritional supplement containing a pure, clean source of bovine adrenal glandular. This concentrated glandular contains naturally-occurring DHEA, enzymes, vitamins, and minerals.  This supplement was designed to support healthy adrenal function and normal energy levels.
**These statements have not been evaluated by the Food and Drug Administration. This product is not intended to diagnose, treat, cure, or prevent any disease. 
Ingredients:
ABgland Bovine Adrenal Glandular Powder.

Other Ingredients:
Rice Starch, Capsule (Hydroxypropyl Methylcellulose, Purified Water), Bovine Tissue, Cellulose, Dicalcium Phosphate, Silicon Dioxide.