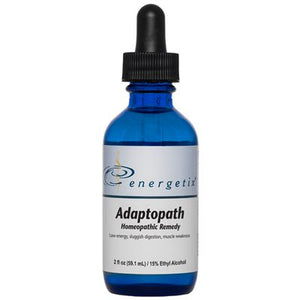 Adaptopath is a homeopathic combination formula for symptoms related to the absorption of nutrients and utilization of oxygen. Many practitioners find this formula to be invaluable where symptoms are related to systemic weakness, depletion, or developmental concerns.
For symptoms such as lethargy, weakness, agitation, poor concentration, poor digestion, limb and joint pain, leg cramps, hair loss, brittle nails, sallow complexion, bluish cast to skin, disrupted appetite, cravings, and bleeding gums.†
**These statements have not been evaluated by the Food and Drug Administration. This product is not intended to diagnose, treat, cure, or prevent any disease. 
Active Ingredients:
59.1 mL contains 2.7% of Adenosinum cyclophosphoricum 8X, 15X, 30X; alpha-Lipoic ac 12X; Arg met 12X; Avena 4X; Capsicum 4X; Citricum ac 4X; Coenzyme A 8X, 30X; Cuprum met 12X; Ginkgo 4X; Glandula suprarenalis suis 9X, 12X, 6C; Glycyrrhiza 4X; Hypothalamus 12X, 6C; Iodium 12X; Ledum 6X, 12X; Mang acet 12X; Nadidum 12X; Nat carb 12X; Oleum morrhuae 6X; Phosphoricum ac 12X; Picricum ac 12X; Riboflavinum 12X; Selenium 12X, 15X; Sepia 12X; Silicea 12X; Thiaminum hydrochloricum 8X; Thyroidinum 9X, 12X, 6C; Vanadium 12X.

Inactive Ingredients:
Ethyl Alcohol, Glycerin, Purified Water.

†Claims based on traditional homeopathic practice, not accepted medical evidence. Not FDA evaluated.